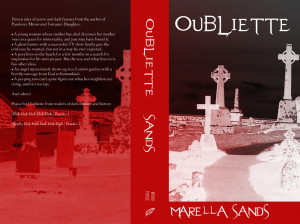 Sometimes, you have the title even before you write the book. Sometimes, what's even harder than writing the book is coming up with the title. Each project is different, and I usually don't have an issue coming up with a title (the publisher often changes them, anyway—ask any Word Posse member!)
For some reason, the horror/dark fantasy anthology Word Posse will be putting out for me (Marella Sands) this autumn remains sans title. During ConQuest, I even put the current working cover on our dealer's table and asked for suggestions. I'm now doing so online. You can email me a possible title, and if I pick yours, you will get a free copy of the anthology when it comes out. Make sure you email the complete name and address of where you want the copy to go.
The anthology will have between 10-13 stories in it. They will include:
A young woman whose mother has died discovers her mother was on a quest for immortality, and just may have found it.
A ghost hunter with a successful TV show finally gets the evidence he wanted, but not in a way he ever expected.
A poet lives on the beach for a few months on a quest for inspiration for his next project. But the sea, and what lives in it, has other ideas.
An angel mysteriously shows up in a London garden with a horrific message from God to humankind.
A peeping tom can't quite figure out what her neighbors are doing, until it's too late.
And others!
Here are two working covers with titles. Perhaps they may give you a bit of inspiration.
Note: As you can see from our 2015 releases list, this book eventually got the title Restless Bones.