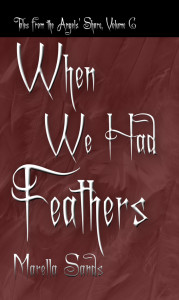 When We Had Feathers, the latest adventure of Teryl Gray, bartender and descendant of angels, marks the sixth outing for this series.
Fresh back from her errand for Ware in London, Teryl is ready to sit back and relax and not think about whatever conflict her boss and his kind are planning, or fearing. All she wants to do is hang out with her boyfriend and her pet hedgehog.
But the Forlorn have other plans. A talisman collected by Teryl months before has gone missing, and that means deadly trouble is about to be visited upon St. Louis. Teryl will be forced to confront a new friend and face losing an old one.
A war that spanned galaxies is about to be re-ignited. Who can Teryl turn to for help, and how can she prepare herself when her own fate seems to be utterly out of her hands?